SinewStrength-VM
Complete Recovery Complex Formula
Available Online With Referral Or From Your Local Veterinary Professional.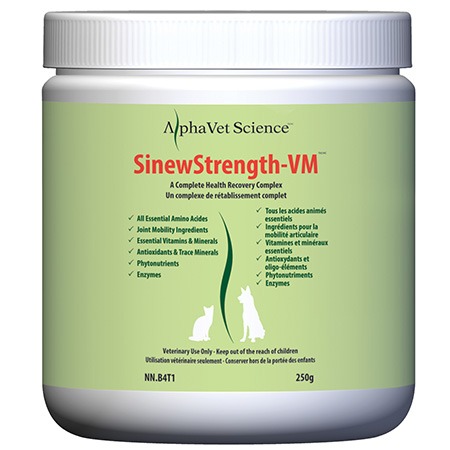 SinewStrength-VM™ – A Complete Recovery Complex
SinewStrength-VM™ is the most complete joint care complex developed. It has been formulated to support and maintain the healthy development of bones, muscles, joints, ligaments and tendons. It has five of the best known joint care supplement ingredients: D-chondroitin sulphate, D-glucosamine sulphate, MSM, hyaluronic acid and hydrolyzed collagen.SinewStrength-VM™ has antioxidants, vitamins, minerals, phytonutrients and trace minerals to nourish the skin, hair and fur for a healthy and beautiful coat. SinewStrength-VM™ also contains four enzymes to aid digestion and absorption of nutrients thus supporting the digestive system. SinewStrength-VM™ is a powder added to your dog's or cat's moist meal.
SinewStrength-VM™ contains per 1 scoop [5 g]:
Vitamins:
beta-Carotene……………………………. 600 mcg (1000 IU)
Vitamin B1 (Thiamine hydrochloride)………….. 2 mg
Vitamin B2 (Riboflavin)…………………….. 2 mg
Vitamin B3 (Niacinamide)…………………… 20 mg
Vitamin B5 (D-Pantothenic acid)……………… 5 mg
Vitamin B6 (Pyridoxine hydrochloride)………….2 mg
Vitamin B7 (Biotin)………………………. 200 mcg
Vitamin B9 (L-Methylfolate)……………….. 300 mcg
Vitamin B12 (Cyanocobalamin)………………. 100 mcg
Vitamin C (L-Ascorbic acid)……………….. 100 mg
Vitamin D3 (Cholecalciferol)……………… 12.5 mcg (500 IU)
Vitamin E (d-alpha Tocopheryl acetate)………. 16.8 mg AT (25 IU)
Vitamin K2 (Menaquinones)………………….. 10 mcg
Choline (Choline bitartrate)………………. 10 mg
Inositol (Myo-inositol)……………………. 10 mg
Rutin……………………………………. 10 mg
Minerals (are in elemental quantities):
Boron (Sodium borate)………………………250 mcg
Calcium (Calcium citrate)………………….. 50 mg
Chromium (Chromium polynicotinate)…………. 100 mcg
Copper (Cupric gluconate)………………… 1000 mcg
Magnesium (Magnesium citrate)……………… 50 mg
Manganese (Manganese sulphate)……………… 2 mg
Molybdenum (Sodium molybdate)……………… 100 mcg
Selenium (L-Selenomethionine)………………. 10 mcg
Silicon (Sodium metasilicate)……………….. 1 mg
Zinc (Zinc citrate)………………………… 1 mg
Phytonutrients:
Boswellia serrata (Frankincence Resin)………. 25 mg
Chlorella vulgaris (Chlorella Broken Cell)….. 100 mg
Curcuma longa (Turmeric Rhizome)…………… 15 mg
Harpagophytum procumbens (Devil's Claw Root)…. 20 mg
Moringa oleifera (Drumstick Tree)………….. 200 mg
Accessory nutrients:
D-Chondroitin sulphate…………………… 1000 mg
Hyaluronic acid………………………….. 75 mg
Hydrolyzed collagen……………………… 1000 mg
Methylsulfonylmethane (MSM)……………….. 400 mg
Amino Acids:Enzymes (are in enzymatic units):
alpha-Amylase…………………………….. 15 mg (330 FCC DU)
Cellulase………………………………… 10 mg (35 FCC CU)
Lipase…………………………………….35 mg (42 FCC LU)
Protease…………………………………. 40 mg (720 FCC HUT)
L-Glutamine………………………………. 50 mg
L-Leucine………………………………… 20 mg
L-Isoleucine……………………………… 20 mg
L-Valine…………………………………. 20 mg
L-Histidine………………………………. 20 mg
L-Threonine………………………………. 20 mg
L-Tryptophan……………………………… 20 mg
L-Phenylalanine…………………………… 20 mg
L-Taurine………………………………… 20 mg
N-Acetyl L-Carnitine………………………. 50 mg
L-Lysine…………………………………. 20 mg
L-Methionine……………………………… 20 mg
L-Arginine……………………………….. 20 mg
FCC (Food Chemicals Codex)FCC CU (Cellulase Units)FCC LU (Lipase Units)FCC DU (alpha-Amylase Dextrinizing Units)FCC HUT (Hemoglobin Unit on a Tyrosine Basis)
Additional Ingredients: Apple fibre, Citrus bioflavonoids, Spirul